April 11th, after several weeks of planning, it was time to record sound for Sammy's "The Night We Opened for the New Ed Sheeran" (or Jesus Wept as it has become known).
Whilst there was little I would be able to record the actual band's performance due to the amplified volumes and sensitivity range of the available equipment, I would still be able to record dialogue, ambient sound and other diegetic sounds and effects, such as a beer can being opened, the sound of guitar and drums as the band enters stage and connects with their instruments,
The sound design itself was relatively simple. Take a studio recording of the band playing the song, add some effects to make the music sound as though it was a real, live performance in a club, add some ambient sounds to mimic a busy night club at the request of the Director, including some effects as the band walk on stage (guitar riff, sounds of tumbleweed and crickets) and other comedy effects.
Additionally, I tuned volume levels to suit the performance, ducking sound samples under dialogue and ensuring that audio levels were kept within bounds.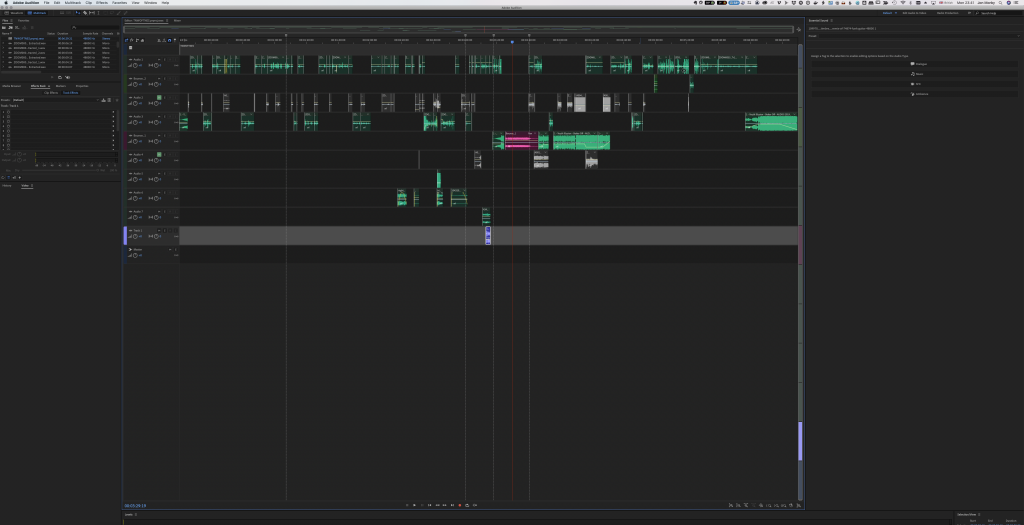 Having received a project file with some basic sound effects and sounds mixed up across multiple tracks (with music, dialogue and sound effects all intermixed) my first job was to split the tracks out so that dialogue was on one track, the band's music was on another and so forth.
I then added ambient sounds, effects including reverb on the band's music, I tidied up and removed background noise from the dialogue tracks, and worked with the Director (Josh) to get the effects and Foley in as he wanted them in order to tell the story through sound as well as visually.
I then bounced the audio file out and sent them the finished mixdown, along with the project file and copies of all of the samples I had used.
Several changes and tweaks were fed back by both Producer and Director and were included in the final mixdown. The finished bounce was completed and uploaded before the final deadline.
Were I to do this again, I would want to make sure that the equipment being used would be more suited to the task, the ability to record directly from the mixing desk would be good for example. It would have also been nice if we had been able to use Lavalier microphones, however, these weren't available and so the only option was to record with the boom mic.