So, over the last year, I have been working more and more on video editing and producing 4K content as part of my in depth exploration of my childhood dream to become a film maker (insert mid life crisis jokes here!) 🙂
One of the biggest problems I've had to date has been storage space, finding enough space to keep all the video I have been creating, the B-Roll, the content libraries and more.
Having bought a Promise2 R8 Raid array with 8 x 3TB drives and Thunderbolt 2, this quest for storage has been satiated for quite some time, however as the 18TB (usable) space is being eaten up rapidly (now I am filming in 4K and 6K ProRes RAW) and I am creating more and more content on an almost daily basis, I needed something bigger …. and FASTER.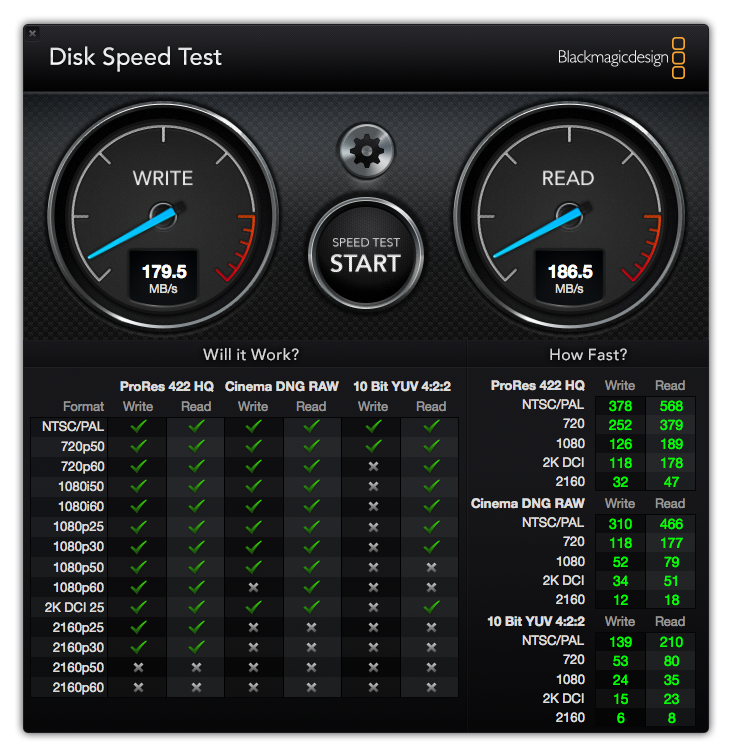 A new problem has arisen, one which I had previously not anticipated, and that is that I need storage which is also fast enough to be able to edit 4K/6K footage on. The project files are generally too large to work on my local 1TB m.2 SSD in the iBin (Mac Pro Late 2013) as that only ever seems to have 200GB-300GB of space free, and that can be the size of the cache for a single project these days. The Promise RAID solution has been good, but I'm only really seeing 180MB/sec out of the array, which is proving not to be enough as I start to render complex projects with multiple layers and effects. I'm also sometimes working on two computers simultaneously (my MacBook Pro 2017 with discrete GPU is now faster than my desktop, so sometimes I move to work on this) … I have been syncing the project file between the Promise RAID and an m.2 SSD drive, which is giving me nearly 500Mb/sec over USB-C to the MacBook … but it is only 1TB … so only really good enough for a single project at a time, and I don't have access to the library of B-Roll I'm building … so I need to copy that from the library, which means duplicate files everywhere eating more disk space.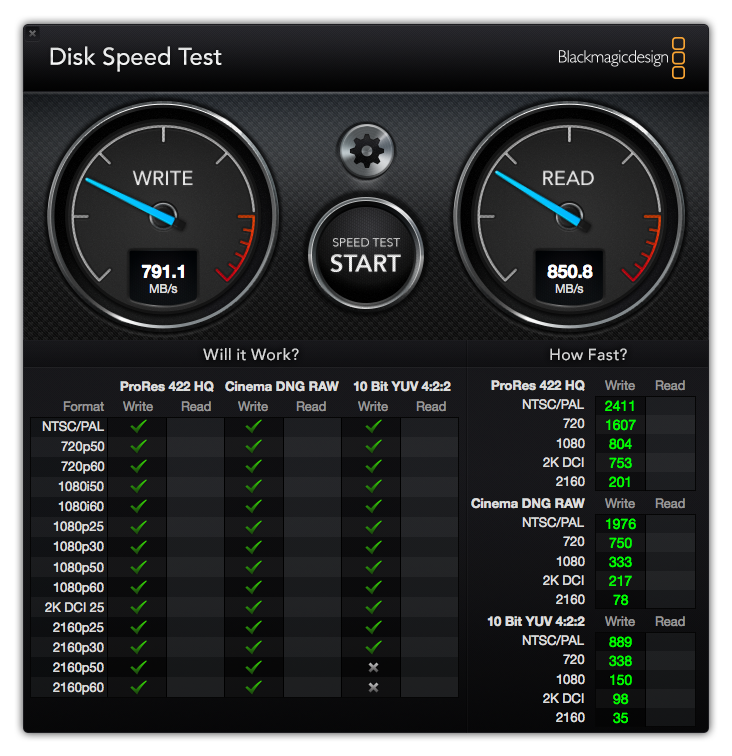 In my dayjob we've been using 10GB networks and wide area storage arrays (ceph) for years. They're fast, efficient, infinitely scalable and relatively "cheap" compared to other SAN solutions on the market … we have 200TB+ of storage and we can grow that daily just by adding more drives / chassis into the network. This however is overkill for a domestic / SoHo solution (with 80+ drives and 20 servers and counting, this is definitely a "carrier grade" solution!
So I thought it was now time to merge my expertise in Enterprise storage and networking with my hobby and need for something which is "better" all round.
Historically, the secret to faster storage has always been "more spindles". The more disks you have in your array, the faster the data access is. This is still true, to a degree, but you're still going to hit bottle necks with the storage, namely the 6GB/sec (now 12GB/sec) speeds of the SATA/SAS interface, 7200RPM speeds of the disks (yes you can get 15K RPM drives, but they're either ludicrously expensive, or small, or both).
SSDs were always a "nice" option, but they were small and still suffered from the 6GB/sec bottle neck of the SATA interface. Add to that reliability issues of MLC storage and the costs of SLC storage (article: SLC vs MLC) which made NAND flash storage devices impractical. I have had many SSDs fail, some after just a few days of use, some after many months. Spending $500 on something which might only last you 2 weeks is not good business sense).
Today, we have a new generation of V-NAND and NVMe hybrid flash drives which have up to seven (7) times the speed and much higher levels of reliability that interface directly to the PCIe interface and bypass previous bottle necks like the SAS/SATA interface. And they're (relatively) affordable and come in much larger capacities (up to 2TB at the time of writing, although I'm told "petabyte" sizes are just around the corner).
So, the question now is how do I put all of this knowledge together to deliver a faster overall solution?
From the networking perspective, I started off looking at 10 Gig capable switches. I found a few options on eBay including 24 port Juniper EX2500 switches for £600 each (now end of life, but they'll do the job) however I ended up choosing a brand new Ubiquiti EdgeSwitch 16-XG for £450, which has a mix of 10GBase-T and 10G Base-X interfaces (SFP+ and RJ45) so that I could connect a mix of devices regardless of whether they were via copper or fibre.
For the MacBook Pro, I bought a Sonnet Solo 10 Gig (Thunderbolt 3 interface) for £185, and for the MacPro (iBin) I bought a Sonnet Dual 10 Gig Thunderbolt 2 interface for £385.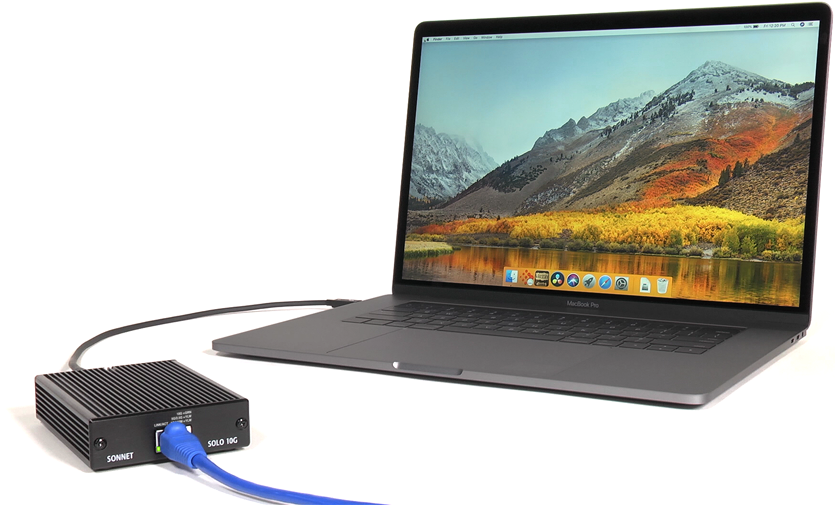 Connecting the devices together with CAT7 cables bought on Amazon for £15 and 10GTek Direct Attach cables to link the SFP+ devices (see below) to the switch. In my dayjob we have been using Mellanox DirectAttach cables, however my UK suppliers seem have had a falling out with Mellanox as despite trying to buy supplies of these for work through both Hammer and Boston (both of whom have promised faithfully to always carry stock of essential items such as these) have been unable to supply any to me despite my attempts to order them repeatedly over the previous 6 months. The 10Gtek ones work, and come in at about the same price … and ordering is a lot less painless than having to raise purchase orders and deal with wholesalers on the phone. Plus, I wanted to try and do this using only items I could buy today as a "consumer".
Next, I looked at off the shelf NAS solutions .. the two lead contenders in the space appear to be Synology and QNAP. I placed orders for a number of different units, not all turned up, some are (still) on back order with the suppliers, and at least one supplier (Ingram Micro) cancelled my order and told me to re-apply for an account as they'd changed systems and I hadn't ordered anything in their new system yet – despite having just ordered something in their new system .. Go figure! 🙁
My original plan had been to compare Thunderbolt 3 networked devices to 10 Gig networked devices, however as QNAP are the only manufacturer (currently) to have a TB3 equipped unit, and as Ingram failed to supply the device (and nowhere else had stock) I have yet to complete that test.
As far as drives go, despite their bad rep, we've had fairly positive results with Seagate drives at Fido, so I opted for a batch of the ST12000NE0007 IronWolf Pro 12TB drives at £340 each
The chassis ordered for testing
Synology DS2415+ (10 Gig an optional expansion card)
Synology 1817 (10 Gig built in)
QNAP TS-932X (10 Gig built in)
QNAP TS-1282T3 (10 Gig built in and Thunderbolt 3)
On paper, the 1282 T3 looks like the winner (if only I could get hold of one!). The TS-932X looks like it might be ok, but the CPU worries me.
The Synology 1817 has the same CPU as the TS-932X, QNAP has QTier as well as SSD caching