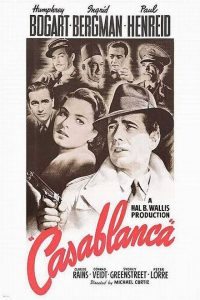 Casablanca (1942) is one of Hollywood's all time great movies. Written by Epstein and Koch (Epstein being the Epstein twins Julius and Philip – the first twins to be awarded Oscars, which they won for Casablanca), it is a tale about an American ex-pat who has tried to get away from it all by moving to Casablanca. As the story unfolds during the early stages of World War II, we learn Rick (Humphrey Bogart) is "world weary", tired of authority and has had his heart broken by the love of his life Ilsa Lund (Ingrid Bergman).
Rick has opened a bar (Rick's Place) which has become a haven of sorts for refugees, and a home for black marketeers selling papers of transit (forged and real) which they hope will allow them to escape to America.
Sam (Dooley Wilson), the piano player, is the heart of Rick's – playing music every night on an upright piano. He will play any song you care to request, save one – one which has special meaning for Rick (and Ilsa) – which Rick has banned from ever being playing again.
Cue Ilsa Lund (Bergman) who asks Sam to play the song (As Time Goes By) and one of the most immortal (and mis quoted) lines from the film "Play it again Sam".
The lines are actually "Play it once Sam, for old time's sake, Play it Sam" spoken by Bergman and Bogart (Rick) play "As Time Goes By," saying, "You played it for her, you can play it for me… If she can stand it, I can! Play it!" Bogart's line is often misquoted as, "Play it again, Sam!".
The return of Ilsa brings all the emotions flooding back to Rick and the one hard exterior melts and the true man emerges. We see Rick surprise the Police Chief (as close to a friend as Rick can get in these shark infested waters) and develop a conscience, eventually letting go the love of his life and helping her escape the Nazis with her husband as they fly to America.
The character progression for Rick is revealing, as we discover that he isn't the hard businessman we met at the beginning of the film and that he had once loved, had his heart broken, only to then meet the woman who broke his heart and to realise that she did the only honourable thing in leaving him when she learned that her husband was still alive and had not been killed in a concentration camp as she had been lead to believe. Rick in turn, initially conflicted by his love for her, and also his wish to return to America, results eventually in true gallantry and plot twist after plot twist until we reach the movie's end where the freedom fighter (Victor Lazlo) and his wife (Ilsa Lund) escape into the sunset.
Casablanca has been famous for a number of sayings, some of which have (allegedly) even spun off into films of their own.
Classic lines such as
"Of all the Gin joints in all of the world, you had to walk into this one",
"Round up the usual suspects" (which eventually lead to a film called "The Usual Suspects"
and of course "Louis, I think this is the beginning of a beautiful friendship"