We were tasked with coming up with a brief for a story idea, finding a writer and then working with that writer to develop a screenplay.
The process of coming up with the brief was pretty fluid and I came up with a fairly simple outline for s Science Fiction story to be set in a dark, dystopian future. I had the idea of taking fairly innocuous current day technology and seeing how the Government could subvert that technology and use it for bad. To this end, I mixed the concept of body augmentation and digital assistants (such as the Apple Watch) coupled with China's state control of procreation, coupled it with ideas of genetic manipulation and looked at ways that personal freedoms could be curtailed.
Having previously posted briefs on Facebook groups, and being a member of several writing forums, which I read regularly and know many of the writers, I knew that posting this brief online would not elicit a suitable candidate within the timeframe and budget available (<£10), plus I was keen to work with other Raindance students either from the MA course or evening classes and Raindance writing courses.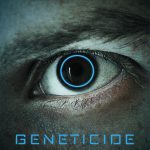 The brief was described as above, with the requirement for a "mind fuck" ending that would get the audience thinking.

Jon Morby
I went through an informal interview process with several writers, discussing ideas and obtaining story submissions from several candidates. One writer seemed keen, although seemed less able to follow the exact brief and then totally unwilling to actually sign the idea and rights across as part of the process – so they were easily discounted. Several other writers showed potential but were too busy to work on the project or within the available timescales.
The brief was described as above, with the requirement for a "mind fuck" ending that would get the audience thinking.
Eventually, I settled on working with Sierra Callaghan. Someone who seemed to understand what I wanted from the project, someone who was willing to operate within the confines of the project and someone who seemed genuinely excited to work on the story. Working with Sierra we developed the idea to include an LGBTQA+ angle, where the state was perfectly happy with people choosing their own sexuality and was only focussed on eradicating diseases such as Cancer, Alzheimer's, ALS, MS and similar genetically linked diseases, only to be further subverted and abused to the point that even a boring personality or the prospect of criminal activity was grounds to fail and a pregnancy not to be sanctioned.
This was very much a commentary on how the State will always subvert and abuse a power it is given, whether RIPA in 2000 or selective gene manipulation and full-blown genetic engineering.
We worked quickly through the first few drafts, Sierra's weaknesses as a new writer (she is, after all, studying writing on the Raindance MA course) became apparent, and we worked on improving those at the same time as improving the script. By January, we had a story which I was happy with, it had the nuances I wanted for a Science Fiction morality play, and had sufficient depth to (I felt) warrant being made into a story that would make the audience think, and not just have a boring, 2 dimensional story thrust into their laps with the ending neatly wrapped in a bow.
We then passed the story to the Director, who had pitched and initially seemed to understand where we were coming from and convinced me that they would deliver on the story as we had defined it. Sadly, this didn't really happen and the Director then went and removed several of the nuances we had carefully injected because he felt that they were irrelevant, confusing or just unnecessary to tell the story. It quickly became apparent that the Director really did not share my (or the writer's) vision, and that they perhaps did not share the same beliefs or vision, and had already bitten off more than they could chew by being involved in several other projects at the same time. By this stage, however, it was too late to replace them if we were to stand a chance of delivering within the prescribed Raindance timeframes.
Whilst I was generally happy with the process up to and including appointing the Director, the subsequent rewrites and changes to the story are things I am less than happy with, and were I to follow this process again (rather than Writing/Directing myself) I would most likely have removed the Director and found one who was more willing to deal with the nuances and subtleties of the script and story idea, and less interested in making something which is effectively dumbed down, with no thought for the intellect of the viewer.
The finished film will hopefully be submitted to the Raindance Film Festival and will be available to view online, you can then make up your own mind as to whether or not the finished film does justice to my original idea.