Another week and another short film put to bed!
This week we were shooting a "house style" comedy / show reel piece for Marianna Graf called Coming Home.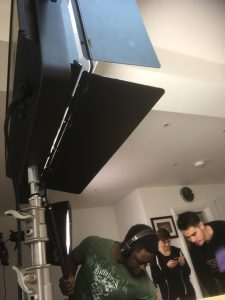 We had a small crew, perfectly sized and formed, shooting in Croxley at Josh's house.
Santi acted as operator / DoP with Chessie as 1st AD, Sammie on sound, Ana as 1st AC/Gaffer/Grip & Continuity and with myself Directing whilst being assisted and audited by Justin (lecturer and Exec Producer) and Josh as co producer and Arabella dealing with set design.
Justin was also working with / tutoring Marianna and John (actors), so my main responsibilities were shot choices, with a bit of lighting / camera training for Santi and some continuity … as well as blocking and DiT and a little bit of camera operating when Santi switched into his role as "the lover"
The shoot went well, we started late as there were problems with the underground which meant some of the crew didn't arrive until nearly 11 .. so we finished an hour late (6pm) …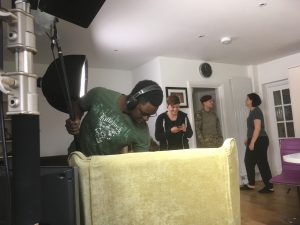 Josh provided a fantastic lunch, Justin also bought drinks and sweets which was a nice touch.