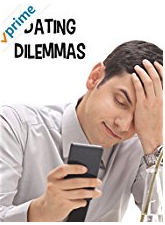 It took some tinkering, but after jumping through a number of hoops and making changes as requested by Amazon's systems, Dating Dilemmas is now officially viewable online as part of your Amazon Prime subscription, and if you don't have a subscription then you can buy / rent the film too!
I have mixed feelings about this, yes this is my first ever short film and I'm quite pleased that it has been so well accepted, but also this is my first short film and I know I can do better .. much better!

So, enjoy … hopefully it will make you laugh … but don't take it too seriously .. and watch this space for the next short film .. which will hopefully be considerably better in both story and technique!